Tourist Info
City Landmarks
Brașov is a city in Romania and the capital of Braşov County.
According to the last Romanian census, from 2002, there were 284,596 people living within the city of Braşov, making it the 8th most populous city in Romania.
Braşov is located in the central part of the country, about 166 km from Bucharest. It is surrounded by the Southern Carpathians, and is part of the Transylvania region.
The city is notable for being the birthplace of the national anthem of Romania and for hosting the Golden Stag International Music Festival.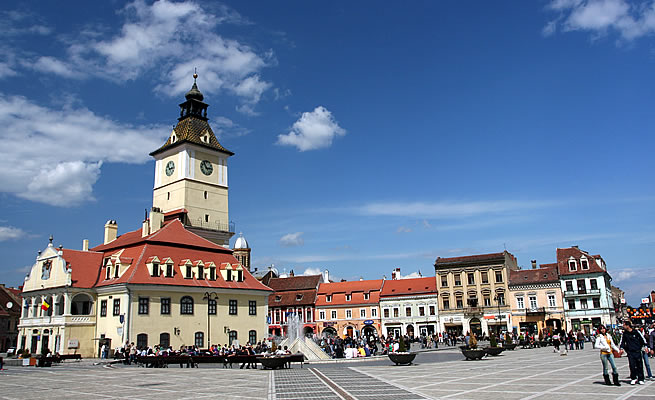 Transportation
The Braşov local transport network is well-developed, with around 50 bus and trolleybus lines. There is also a regular bus line serving Poiana Braşov, a nearby winter resort. Until 2006, there were also four night lines that connected the outskirts to city center.
Tourism
Centrally located Braşov is a good starting point for trips around Romania. The city is situated at fairly equal distances from several tourism destinations in the country: the Black Sea resorts, the monasteries in northern Moldavia, and the well-preserved wooden churches of Maramureş. It is also the largest city in a mountain resorts area. The old city itself is very well preserved, and is best seen by taking the cable-car to the top of Tâmpa Mountain (995 m), a beautiful lookout.
Temperatures from May to September fluctuate around 23°C / 75°F. Braşov benefits from a winter tourism season centered on winter sports and other activities.
Poiana Braşov is the most popular Romanian ski resort and an important tourist center preferred by many tourists not only from Romania, but also from Italy, France, Germany, Switzerland and other European states.
Sights
Biserica Neagră ("The Black Church"), a celebrated Gothic site - the building dates from 1477, when it replaced an older church (demolished around 1385). Its acquired the name after being blackened by smoke from the 1689 great fire.
Casa Sfatului ("The mayor's former office building"). The administration for Braşov was here for more than 500 years.
Biserica Sf. Nicolae (St. Nicholas Church), dating back to the 14th century.
The First Romanian School, a museum with the first Romanian printing press among many other firsts.
The Rope Street, the most narrow street in Romania.
Şchei, the historically Bulgarian but then Romanian neighborhood outside of the old walled city.
Catherine's Gate, the only original city gate to have survived from medieval times.
Şchei Gate, is right next to Catherine's Gate, built in 1827.
The Orthodox church of the Dormition of the Theotokos, built in 1896.
Muzeul Prima Carte Românească, a museum exhibiting the first book printed in the Romanian language.
Tâmpa, a small mountain in the middle of the city (900m above sea level), a sightseeing spot near the old city center.
The "Braşov Citadel Fortress" - Cetăţuia Braşovului
The nearby Bran Castle, attracting many fans of Dracula, and often (but incorrectly) said to have been the home of Vlad the Impaler.
Poiana Braşov, mainly a ski resort, but also a sightseeing spot.
Râşnov Fortress, above the nearby town of Râşnov, is a restored peasant fortress
Prejmer Fortress, in the nearby town of Prejmer